Candice Rollerson interview
Sometimes our past is something we often find difficult to put into words, but San Francisco photographer Candice Rollerson translated her past and memories into handmade miniature constructions as way to reflect and process her emotions and experiences.
Angela Chen chatted with Rollerson about her passions and her construction of Life Constructed: A Journey, after her recent graduation from the MFA Photography program at the Academy of Art University.
Angela Chen: Please tell us a little about yourself.
Candice Rollerson: I'm originally from New York but moved to Charleston, South Carolina and lived their for most of my life until I came to San Francisco on vacation in 2012 and fell in love with the city. I decided to look into an art program here and found the Academy of Art University and it was pretty much history. I moved here three years ago, started at AAU, and graduated with my Masters in May. I graduated from the College of Charleston with a Bachelor's in Science in Child Education in 2006 because I originally wanted to be a teacher. I decided to travel and teach outside of the US so I moved to China to teach English. I taught all grade levels and loved living in China. It was one of the best experiences in my life.
AC: Why photography?
CR: I have always been interested in photography, more so visually than actually wanting to be a photographer. I used to get the National Geographic subscription every month and my favorite part was that they sent me this giant map and every time I received a new issue I'd imagine traveling to all these amazing places.
After moving to China and traveling, I photographed with my simple point-and-shoot camera and began to wish more and more that I had a more professional camera because my interest in photography only continued to grow.
After I returned from China, I enrolled in a technical college and that was when I bought my first DLSR and at the same time took my first darkroom classes, which influenced me greatly. I love film photography, I love being in the darkroom, I love how it changes my mood and makes me hyper-focused. I love the grain in images and I think film adds a nostalgia to any work that you're doing.
I tried many of the other mediums - painting, drawing, mixed media, but I always felt like photography allowed me to use a voice that I don't regularly have. Photography allows me to say what I feel but I don't allow other to see in myself. For the most part, people know me as a really happy person, but the part that I don't tend to allow people to see is when I'm unhappy or not feeling like myself. These are the emotions I keep down and don't express to people because I try not to be a negative person. So photography is just a perfect format for me to be able to create and put all my emotions into an image and have other people see it and for the most part feel what I am feeling through it. I just think it's the perfect voice for me.
How would you describe your style?
I would say that my style is, automatically, dark and emotional, but when I say dark, I don't necessarily mean negative. The emotions involved in the work are somewhat tumultuous and that's how I describe my relationship with art. My art is always for me, it is always expressing something that I am trying to work through. I use photography and all the other aspects of art that I'm interested in as a means of self expression and therapy. My images are always based on personal experiences or emotional states that I feel I need to let my photos speak out for me.
"My art is always for me…it is a means of self expression and therapy"
What are some of your inspirations?
I enjoy Laurie Simmons' work because she also shoots with figures and dolls and miniature furniture. I like that she doesn't just photograph them, she creates a scene, much like what I do, and turns them into very emotional visual stories.
Another inspiration is James Casebere who builds environments such as prisons, hospitals, schools and really turns them into psychological pieces that make you think about the space. His work was really helpful in just helping me figure out how to create these spaces to tell the story of what I wanted to say with my own work.
Lastly, I really enjoy Matthew Albanese's work because he builds these miniature dioramas on tables. But he doesn't just build these small sets, these are large productions that take him months and months to create and the way he photographs them are so realistic and speaks to human involvement with nature. I have looked to him for technical inspiration in terms of how to create and construct my environments.
Please describe Life Constructed: A Journey.
Life Constructed is my MFA thesis project and is absolutely my most important work to me so far. My thesis for me has finally let me piece together certain elements of my life, especially my earlier childhood growing up. It allowed me to piece together things that happened that I didn't realize had such an effect on my life. There are lots of things you see in my thesis project that are just me working through and trying to get to the bottom of certain issues. Certain things like the relationship with my dad effected not only my own self worth, but also my future relationships. Isolation comes up a lot in my project, it's one of the biggest themes, along with a certain darkness or heavy feeling. There's also certain elements of strength peeking through. There's a certain strength that I've always had that I have to acknowledge because it comes from my mom, especially since she is the yin to my dad's yang. And where he was an awful parent for me, my mom was the best parent who was always there for me and pushed me to be a really strong person. So there are a few images where you can see me trying to express my strength or regain my strength. This project means the most to me because this is the first time ever that I have been able to use my photography to specifically tell my story - those figures represent me, these images are a chapter of my life. So if no one on the face of the planet ever likes this work, I am okay with that because this project was about me resolving issues and trying to understand myself better. (More about Life Constructed on her website).
"It allowed me to piece together things that happened that I didn't realized had such an effect on my life."
What are some challenges you face as an artist?
Time is not my friend, especially since I build everything which is an important aspect for me. One of my favorites parts is physically constructing my work, so especially now that I'm out of school, with work and bills, I just don't have the time like I used to. I'm finding that I am not creating as much work or exploring my vision as much.
I tackle that challenge by doing things when I can. I'm constantly writing down my ideas and planning. I've also started to set aside a little time each weekend to just work on my art. There's a timer and everything. Now that I'm not a student I have to get my art time when I can and if it's 30 minutes to an hour here and there for right now, I just make it work.
What kind of other work are you interested in creating?
I want to focus more of my time in the dark room and with mixed media. I enjoy the dark room so much so I want to focus on film photography and working with historical alternative processes. While photography is my main medium, I still really enjoy painting and drawing and plan to incorporate them more into my work through mixed media. I feel it adds an extra level to the emotion in my imagery, beyond just taking the photo of the subject.
What are your plans for the future?
I plan to continue working with miniatures and photographing with a 4x5 camera. I may possibly begin to explore color work alongside black and white. I also plan to explore social issues and create scenes based on what I want for my future.
I have my first solo show coming up in March 2017 at the Academy of Art University 688 Gallery. Until then, some of my images are currently being displayed in the Looking Gallery at the Academy of Art University. Next month, I also have an image that will be featured in the fourth combined caucus exhibition at Living Arts in Oklahoma as part of SPE's Constructed Realities Conferences.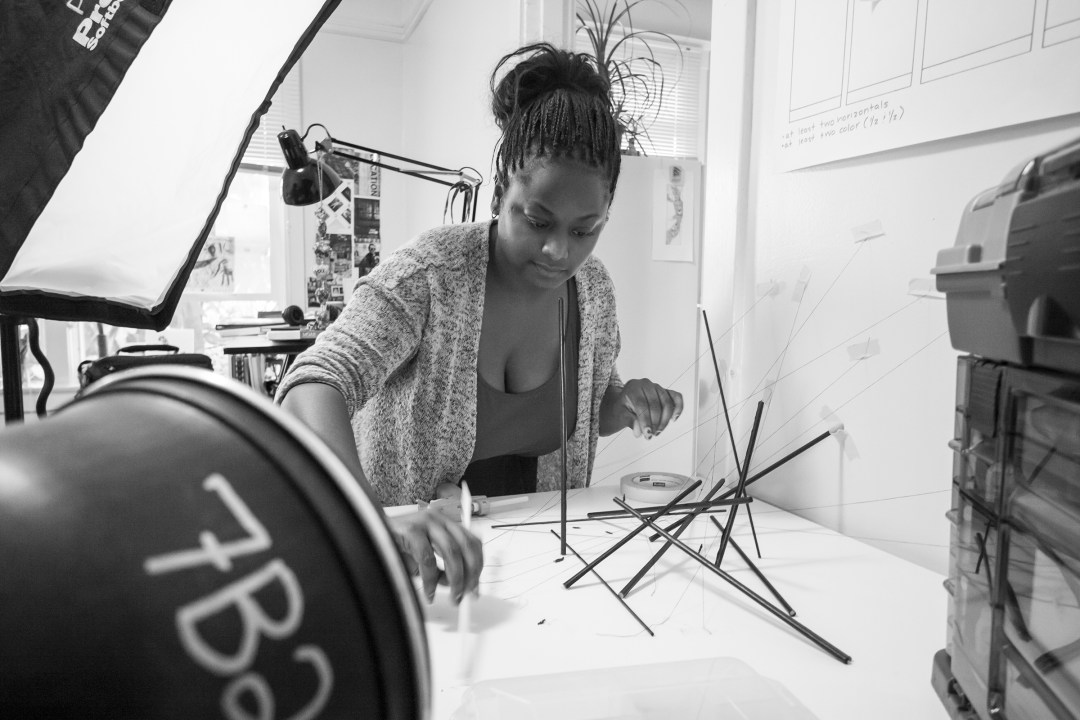 Candice Rollerson is a San Francisco-based fine art photographer who has recently received an MFA in Fine Art Photography from the Academy of Art University. She primarily works with 4x5 large format film and historical alternative processes and mixed media. Her thesis work, Life Constructed: A Journey has been featured in SPE and San Francisco galleries.
www.cjadephotography.com instagram.com/cjadephotography facebook.com/CJadePhotography